ABOUT THE BOOK
San Francisco-based photographer Michael Light's (b. 1963) fourth Radius book of his aerial survey Some Dry Space: An Inhabited West journeys into the vast geological space and time of the Great Basin—the heart of a storied national void that is both actual and psychological, treasured as much for its tabula rasa possibilities as it is hated for its utter hostility to human needs.
Twelve thousand years ago most of the Great Basin-that part of the country between California and Utah where water does not drain to the ocean—was 900 feet underwater, covered by two vast and now largely evaporated historical lakes, Bonneville and Lahontan. The shrunken remnants of Lake Bonneville today are the Great Salt Lake in Utah and its eponymous salt flats, while the best known portion of the former Lake Lahontan is the Black Rock Desert in Nevada, an alkali bed that floods and dries each year, creating the flattest topography on earth, home to the annual counterculture festival Burning Man.
Piloting his 600-pound aircraft at low elevations, Light explores this mythic space deeply and abstractly, finding in the emptiness as much evidence of our presence as absence-and revealing heretofore unseen palimpsests of vehicular and urban glyphics that come and go with the seasons. Reflecting Light's ongoing survey themes of mapping, perceptual orientation, and human impact on the land, but in a newly minimal and psychological direction, Lake Lahontan - Lake Bonneville offers an elegiac and forceful look at the politics of erasure.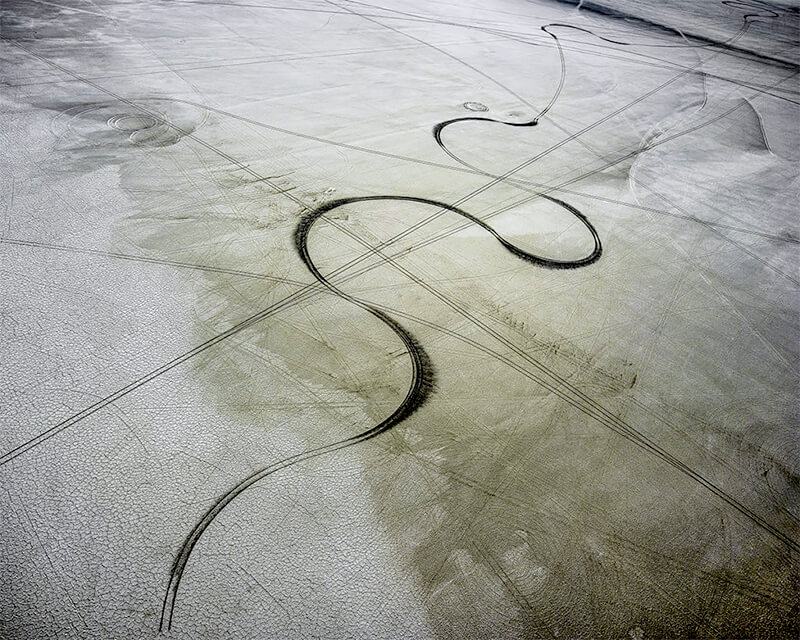 ABOUT THE ARTIST
Michael Light
is a San Francisco-based photographer focused on the environment and how contemporary American culture relates to it. He has exhibited extensively worldwide, and his work has been collected by the San Francisco Museum of Modern Art, The Getty Research Institute, The Los Angeles County Museum of Art, The New York Public Library, and the Victoria & Albert Museum in London, among others. For the last sixteen years, Light has aerially photographed over settled and unsettled areas of American space, pursuing themes of mapping, vertigo, human impact on the land, and various aspects of geologic time and the sublime. A private pilot and Guggenheim Fellow, he is currently working on an extended aerial survey of arid America titled Some Dry Space: An Inhabited West. Radius Books has published the first three volumes in the series, including Bingham Mine/Garfield Stack (2009); LA Day/LA Night (2011); and Lake Las Vegas/Black Mountain (2014). Light is also known for his archival works Full Moon (1999) and 100 Suns (2003).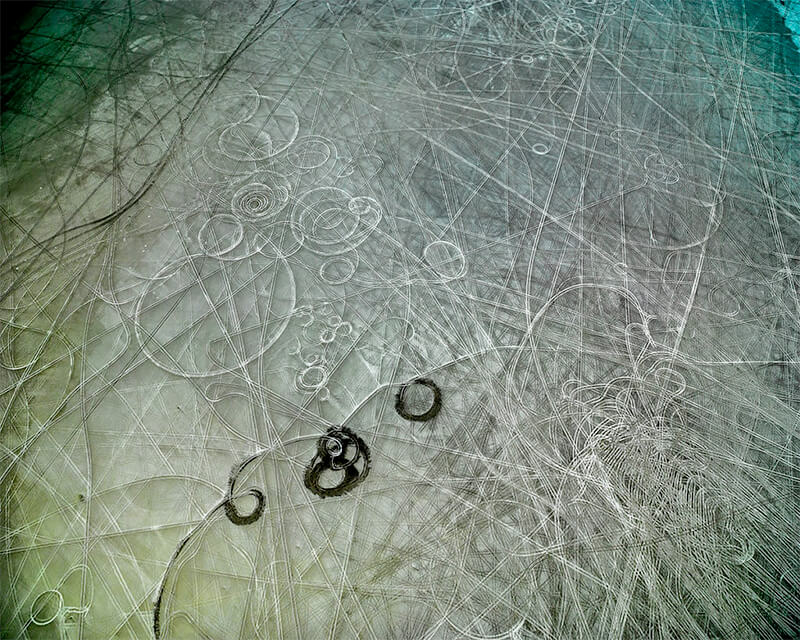 ABOUT THE CONTRIBUTORS
William L. Fox is a writer whose work is a sustained inquiry into how human cognition transforms land into landscape. His numerous nonfiction books rely upon fieldwork with artists and scientists in extreme environments to provide the narratives through which he conducts his investigations. He also serves as the Director of the Center for Art + Environment at the Nevada Museum of Art in Reno. Fox has authored essays for numerous exhibition catalogs and artists' monographs, and has been awarded fellowships from the Guggenheim Foundation and the National Endowment for the Humanities.
Poet and naturalist Charles Hood has been a dish washer, a ski instructor, a birding guide in Africa, and a Research Fellow with the Center for Art + Environment, Nevada Museum of Art. His recent books include Mouth, Partially Excited States, and A Californian's Guide to the Birds Among Us. He lives and teaches in the Mojave Desert.
Leah Ollman writes art criticism and features for The Los Angeles Times and Art in America magazine.