Same-sex relations are illegal in thirty-two African countries. Most, including Kenya and Uganda, were former British colonies, and the legacy of the colonialists' anti-gay legislation can be felt to this day. In 2014 Uganda introduced a so-called kill the gays law that sought to broaden the criminalization of same-sex relations, making it punishable by life imprisonment and, in some instances, death. In 2019 Uganda's Minister of Ethics and Integrity called to introduce such a bill once again.
This Is How the Heart Beats (The New Press, February 2020) by acclaimed photographer Jake Naughton and noted writer Jacob Kushner is a powerful and intimate series of portraits of LGBTQ Ugandans, Kenyans, and other East Africans. Some have decided to stay in their homeland despite the discrimination and abuse they face there. Others have fled as refugees, applying for resettlement to a part of the world where they will not be persecuted for who they love.
Jake Naughton's images in this compelling photobook chronicle the lives of an oppressed people from their darkest moments to more hopeful ones, following them as they navigate an uncertain future. In a world with more refugees than ever before, and at a time when prejudice toward refugees runs high across the globe, this work illuminates the stakes for one group at the center of it all. The book includes supporting texts by Jacob Kushner, a foreword by Ugandan queer activist Ruth Muganzi, and an essay by Cynthia Ndikumana, a transgender activist from Burundi.
Here are some story highlights from This Is How the Heart Beats: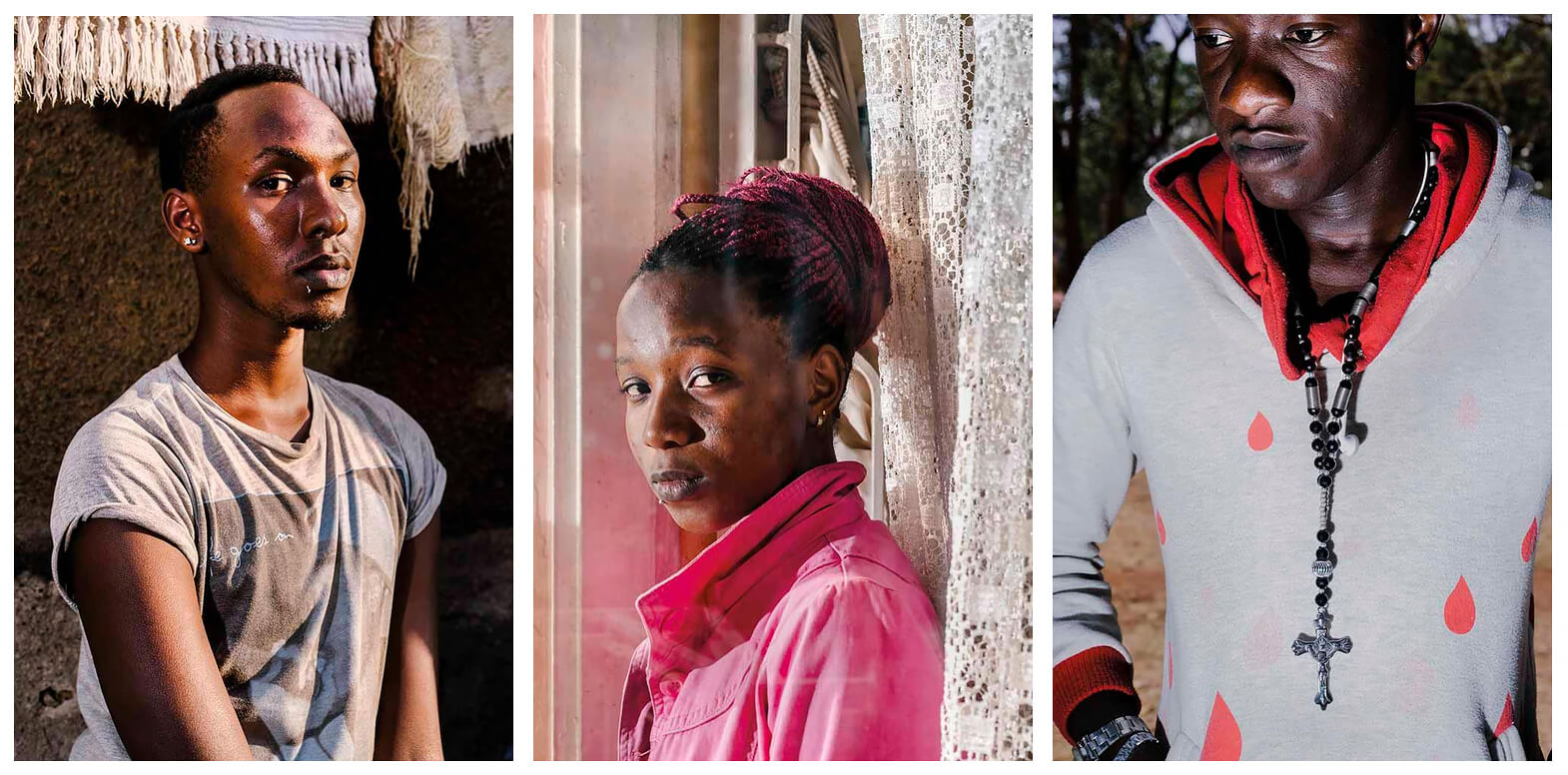 In his closing text, Jacob Kushner reveals that only a small percentage of queer East Africans who apply to resettle in the West are ultimately successful. Even the very few who win a ticket to a new life will usually have to wait several years before they are authorized to leave. 'Most of the population of Kakuma will be here for life,' a Belgian refugee worker for the UNHCR told me. The result is that the collection of huts where many of the LGBTQ Ugandans live has begun to feel permanent.
Activist Cynthia Ndikumana urges East Africans to persevere: I want to tell all LGBTQ people-the people in Burundi, in Kenya, in the Kakuma Refugee Camp, in all of Africa-to be strong, to never give up. It can be a long and difficult process getting out of the country and finding a place of safety, but there are good, kind people along the way who will help you-in my case, people I can't thank enough for all they did for me. And now I am here and I am safe.
About the Contributors:
JAKE NAUGHTON
is a photographer focusing on queer identity in the present moment. He has been published by The New York Times, Time, Vice, Wired, and others. His first monograph, When We Were Strangers, an up-close look at queer love co-authored with his partner, Juan Anibal Sosa Iglesias, was published in 2019.
JACOB KUSHNER
is a journalist whose work has appeared in The New York Times Magazine, Harper's Magazine, The Atlantic, National Geographic, The New Yorker, Foreign Policy, The Guardian, among other outlets. He reports on migration and human rights in East Africa, the Caribbean, and Germany.
RUTH MUGANZI
is a lesbian activist and programs director for Kuchu Times, the only LGBTQ media outlet in Uganda.
CYNTHIA NDIKUMANA
is a transgender activist from Burundi, where he founded the LGBTQ organization Rainbow before being forced to flee to Kenya. He eventually obtained asylum and was resettled in the United States.
About The New Press's LGBTQ PhotoBook Series:
This Is How the Heart Beats is the twelfth title in the critically acclaimed photobook series published by The New Press about LGBTQ communities around the world. Previous books are Dark Tears: LGBTQ Resilience in Latin America by Claudia Jares, Lives in Transition: LGBTQ Serbia by Slobodan Randjelovic; Revealing Selves: Transgender Portraits in Argentina by Kike Arnal; Pride and Joy: Taking the Streets of New York City by Jurek Wajdowicz, Delhi: Communities of Belonging by Sunil Gupta and Charan Singh, Edges of the Rainbow: LGBTQ Japan by Michel Delsol and Haruku Shinozaki; The Kids: The Children of LGBTQ Parents in the USA by Gabriela Herman and Out: LGBTQ Poland by Maciek Nabrdalik. For more information, visit:
www.diversehumanity.com
The photobook series is the result of a unique collaboration between the Arcus Foundation, Emerson, Wajdowicz Studios (EWS), and The New Press. This Is Where the Heart Beats was designed by Emerson, Wajdowicz Studios.
About the Publisher:
The New Press publishes books that promote and enrich public discussion and understanding of the issues vital to our democracy and to a more equitable world. These books are made possible by the enthusiasm of our readers; the support of a committed group of donors, large and small; the collaboration of our many partners in the independent media and the not-for-profit sector; booksellers, who often hand-sell New Press books; librarians; and above all by our authors.